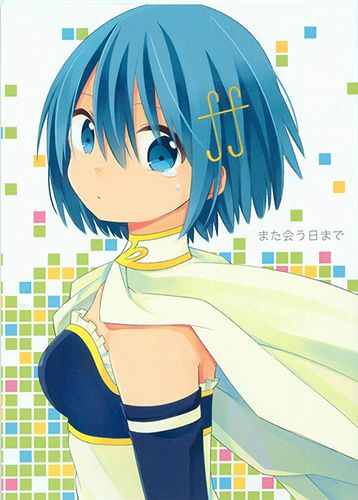 Title:
Until the Day We Meet Again
Pairing:
Sayaka x Kyoko
Artist:
Pig-ton
Rating:
PG
Summary:
*spoilers for Rebellion* Living inside that beautiful world, Sayaka sometimes wishes she could forget it's an illusion. But that world is falling apart, and she knows she'll soon have to say goodbye to Kyoko again.
Download:
Mediafire(.zip)
Don't let the colourful cover fool you. This one is really a much deeper look into Sayaka's feelings, her guilt over leaving Kyoko behind, happiness at being able to see Kyoko again, the conflicting emotions between wanting to do her duty and staying in that perfect world forever. These two just absolutely slay me, especially in the Rebellion setting, the playful banter juxtaposed with the hidden tragedy of the situation. *spoilers* Honestly I'm selfish in liking the Rebellion ending in the same way that Homura justified it (and that Sayaka thought about but never would condone) - everyone is happy, for now, and who cares about what's happening in the world out there as long as the ones important to them are safe in that benevolent illusion.
Also argh, it was such a pain in the ass (but also rewarding as hell when I finally manage to make it look halfway decent) to clean and typeset all the sfx, I still can't get the patterned backgrounds right orz
Enjoy, and don't hesitate to comment!